Newsea Sweet Villain - DOWNLOAD / ALT
gray linked to black
Credits: Newsea, Martini, Remi
Hi! I just adore your simblr and you have such a beautiful game! I had a couple of WCIFs, if that's okay? In post: /post/88793947615, where can I find the poster by the couch, and the frames/pictures above the couch? Also the floorboards? And in post: post/89124341500/hallways, where can I find the wallpaper? And the Doctor Who poster in this post; post/90725691305? Thank you so much for taking the time to answer!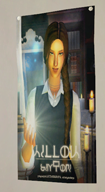 Willow poster by Simtopi
Peggy Free Braids - DOWNLOAD / ALT
gray linked to black
Credits: Remi, Peggy
Clay & Odele
« previous next »
powered by tumblr. themed by kiyla.